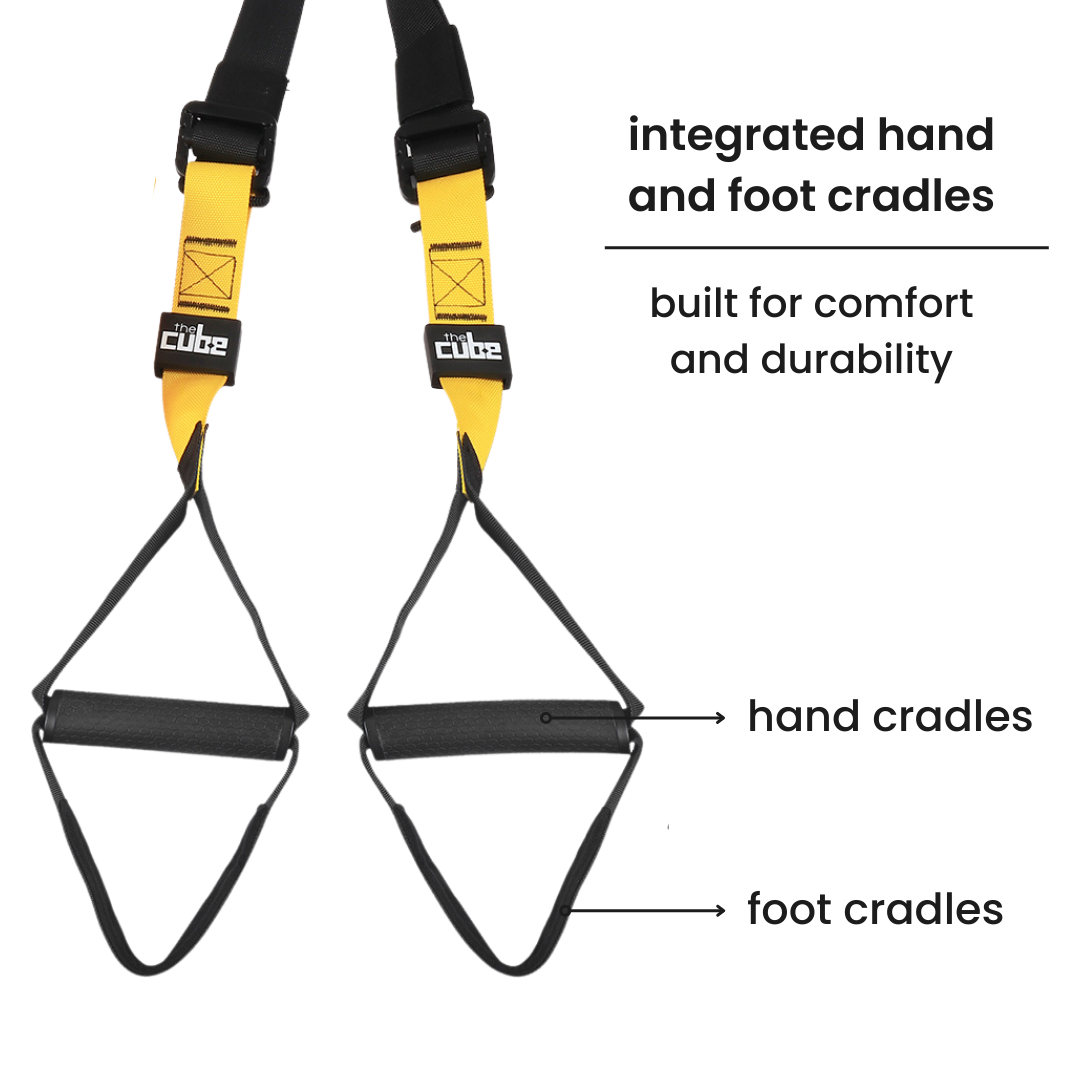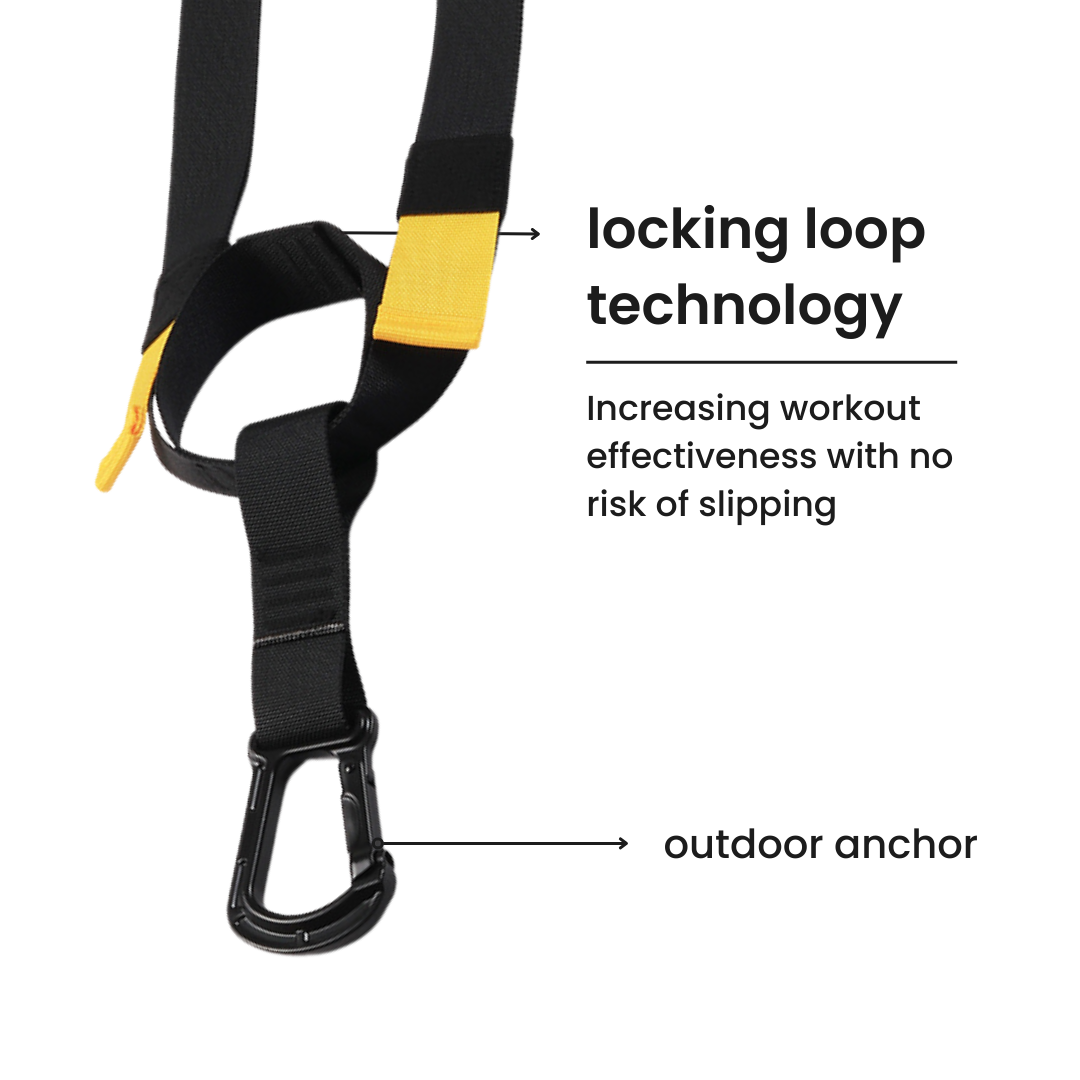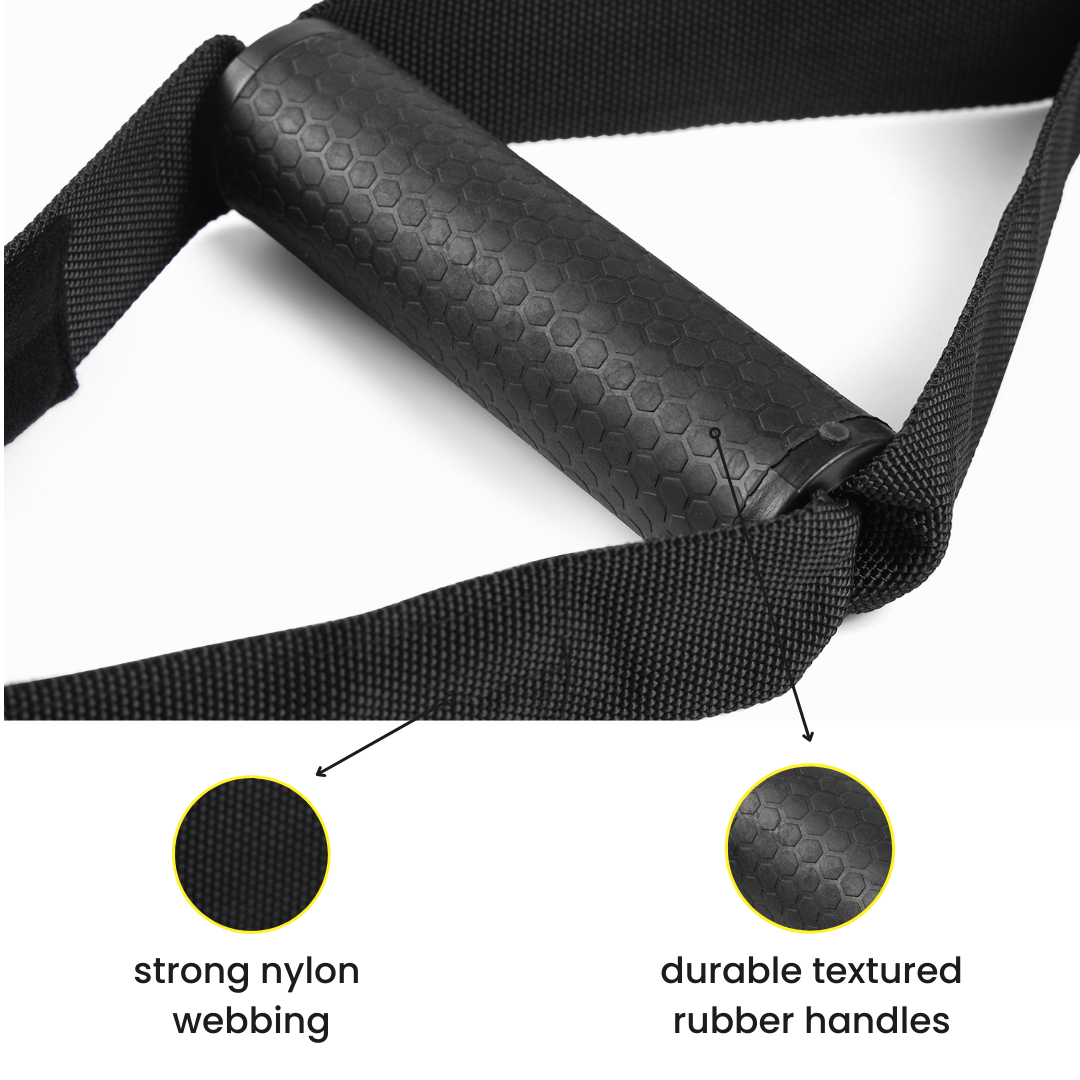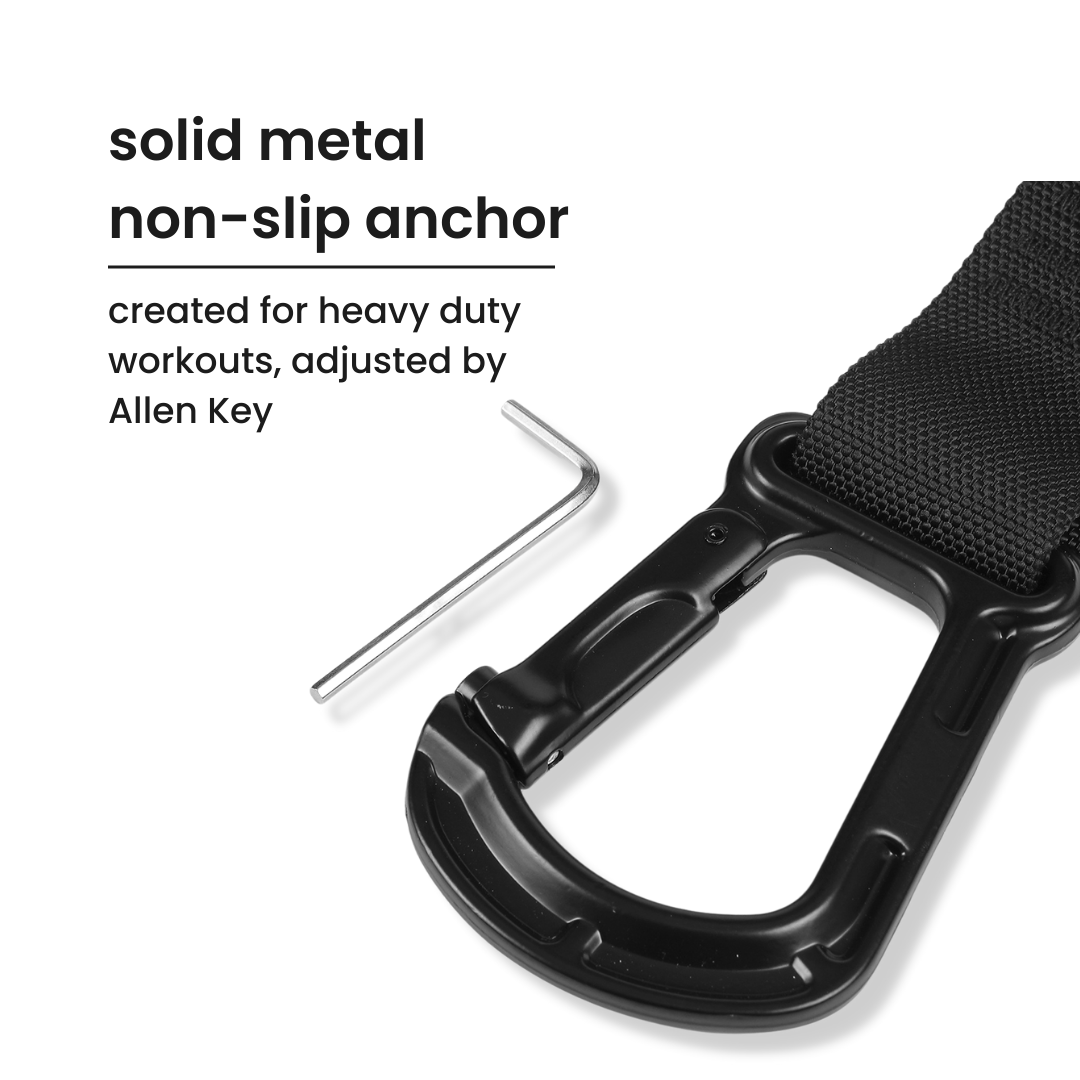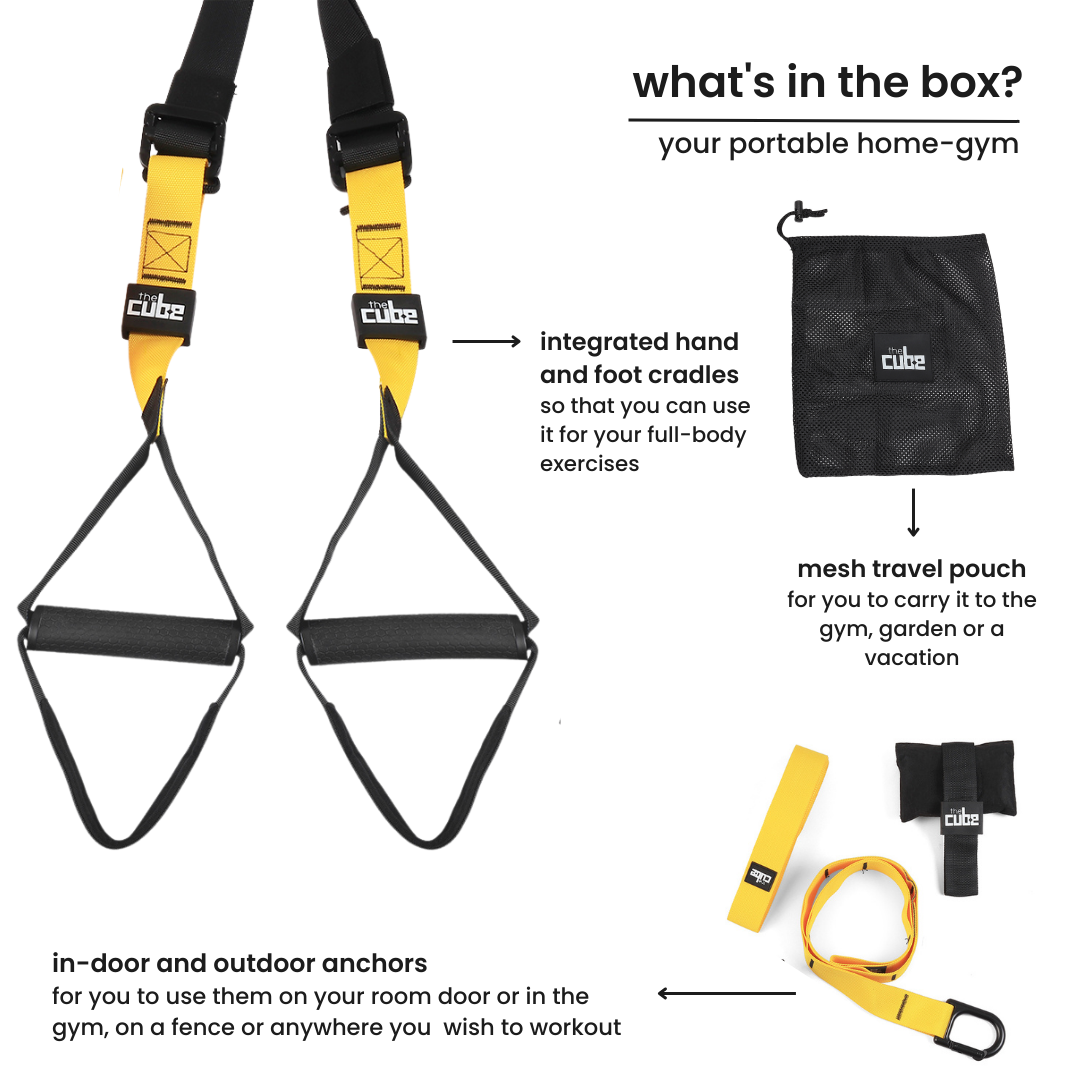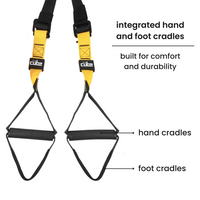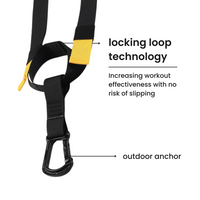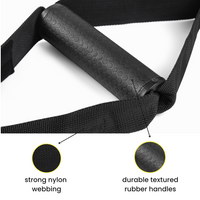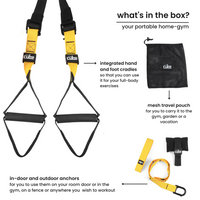 the cube suspension trainer
COD POLICY
Challenge yourself & improve your strength, flexibility at the convenience of your home. Trust us, this doesn't just keep you hanging! Amp up your back, arms and shoulders or try a TRX routine paired up with our Pull-up Bar; it's definitely time to raise the bar.
- Two Handles with comfortable grips
- Indoor Anchor Latch
- Outdoor Anchor Latch
- Suspension Trainer Extension
- Mesh Travel Bag
multi functional
You can do it all! From pull-ups to hangings to other body weight exercises, the Suspension Trainer can be used for everything and can be set up anywhere!
non-slip handles
The foam handles provide optimum grip while using body weight helping you maintain stability.
portable gym
The fully functional exercises with the Suspension Trainer help you increase your overall core fitness while also improving your build strength, balance, coordination, flexibility and joint stability.
Frequently Asked Questions

The Cube Suspension Trainer comes with two solutions for use at home and outside.


For at-home use:
Use the Door Anchor included in your kit. Attach your Suspension Trainer to the Door Anchor and sling the Door Anchor over the top of your door. Close the door (and lock if you can) and give the Suspension Trainer a light tug to pull the anchor taut.


Tip: Try to find doors that open away from the side you will be working out on. If you can't, slide the Door Anchor closer to the door's hinges to get more stability.


For outdoor use:
Use the yellow Suspension Anchor to connect to a tree, pull-up bar, jungle gym, fence, or pole. Wrap the Suspension Anchor around the sturdy object and clip the strap carabiner into one of the loops on the yellow strap. Then, hook your Suspension Trainer to the open end of the yellow Suspension Anchor.

You can perform TRX exercises at various strap lengths.



The main strap lengths are:

Fully lengthened - the bottom of the foot cradles should hang about 3in off the ground. This adjustment is usually used for exercises like TRX Lunges and Chest Presses

Mid-length - the yellow tabs should mid-point of the straps (where grey meets black or at the yellow hash marks). Typical exercises performed at this length include TRX Bicep Curls and Squats

Fully Shortened - pull your yellow tabs all the way to the top! Use this adjustment for TRX Rows

Overshortened - use this length to get under your anchor point for challenging Inverted Rows and Pull-Ups


Absolutely everyone. Because the user can effortlessly control the resistance and level of difficulty by simply shifting the position of their body, the Cube Suspension Trainer is perfect for gentle rehabilitation, hardcore athletic training, and everything in between. Suspension Training also allows for complete ranges of motion while training which allows for a more functional workout routine.
Traditional weight training often only works one muscle at a time which is contradictory to the normal coordinated muscle effort used to complete most activities. Focusing on only one muscle at a time is more likely to lead to overuse injuries and muscular imbalances, as well as potentially limit strength and movement gains. Suspension Training allows for the use of multiple planes of motion and works multiple muscles and joints simultaneously.