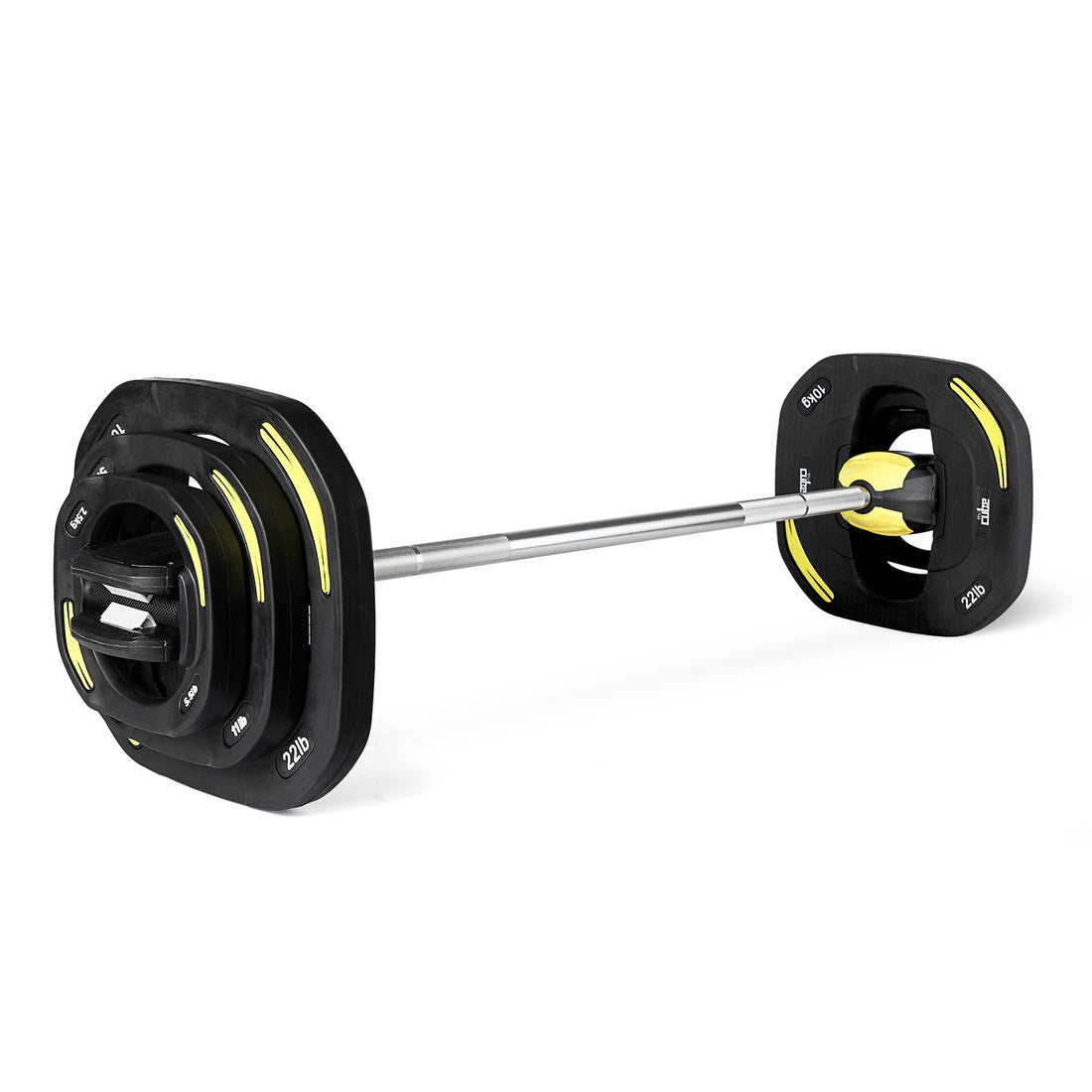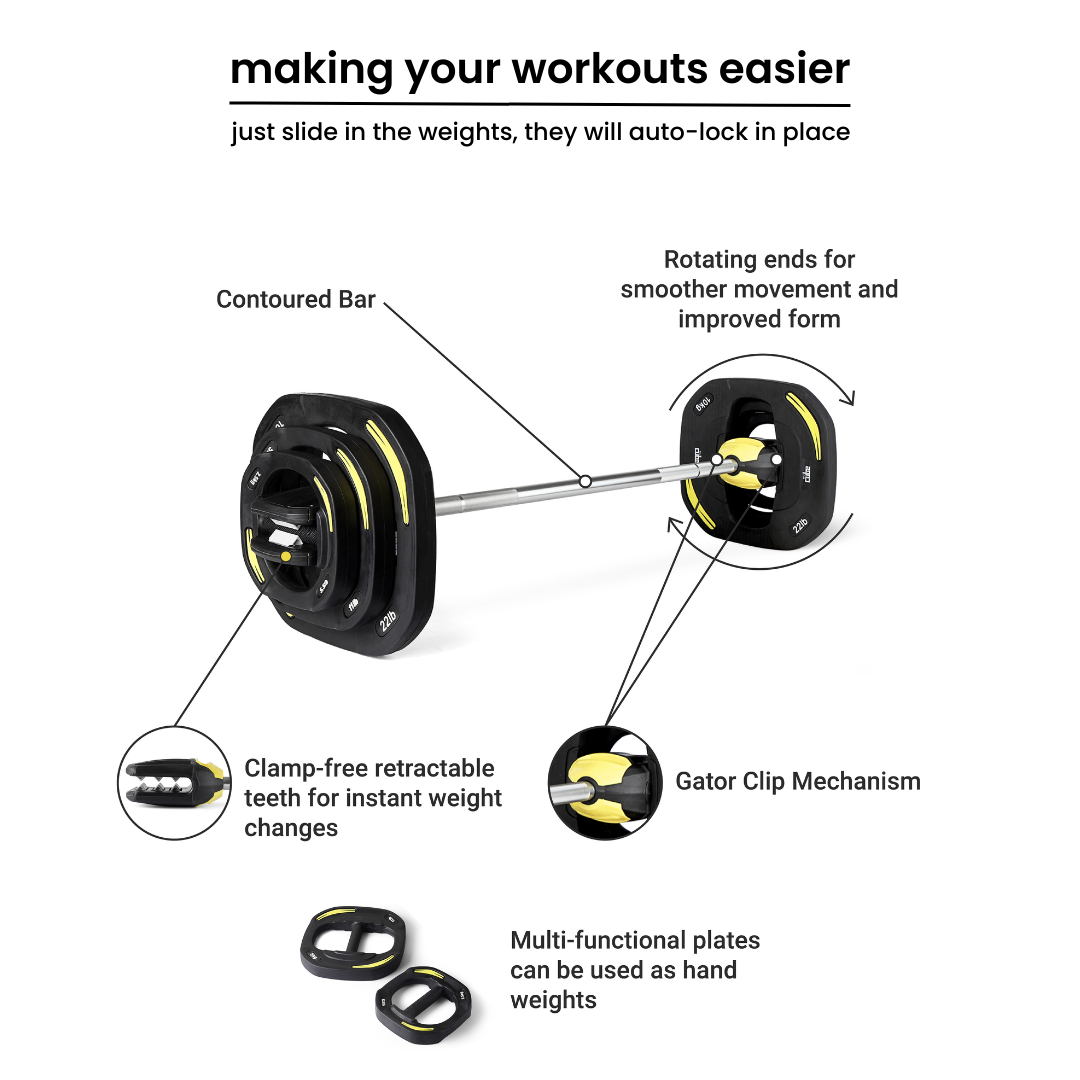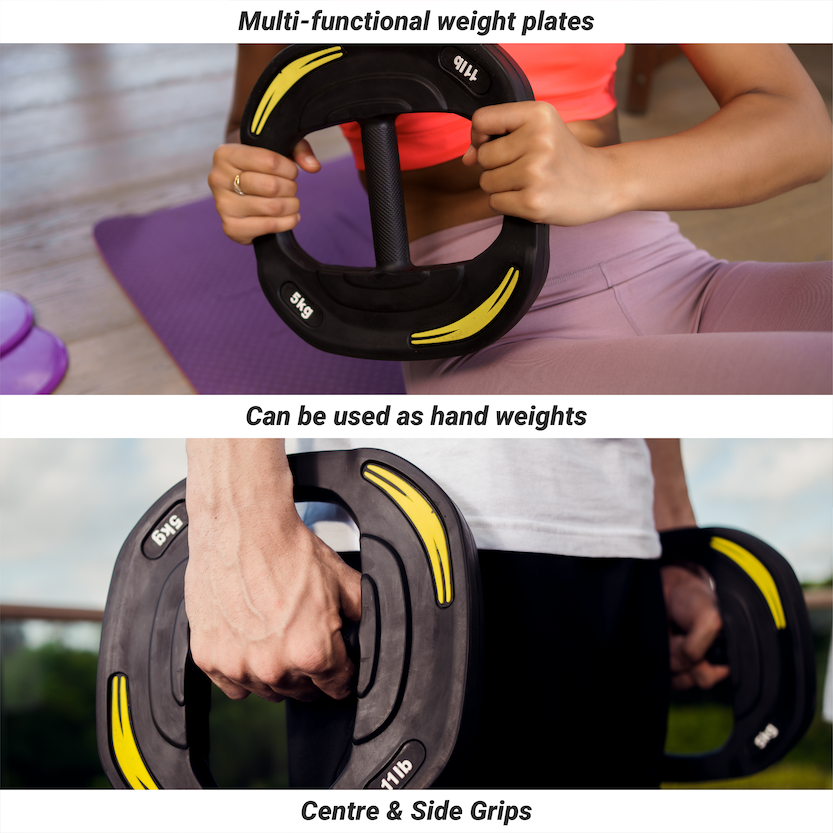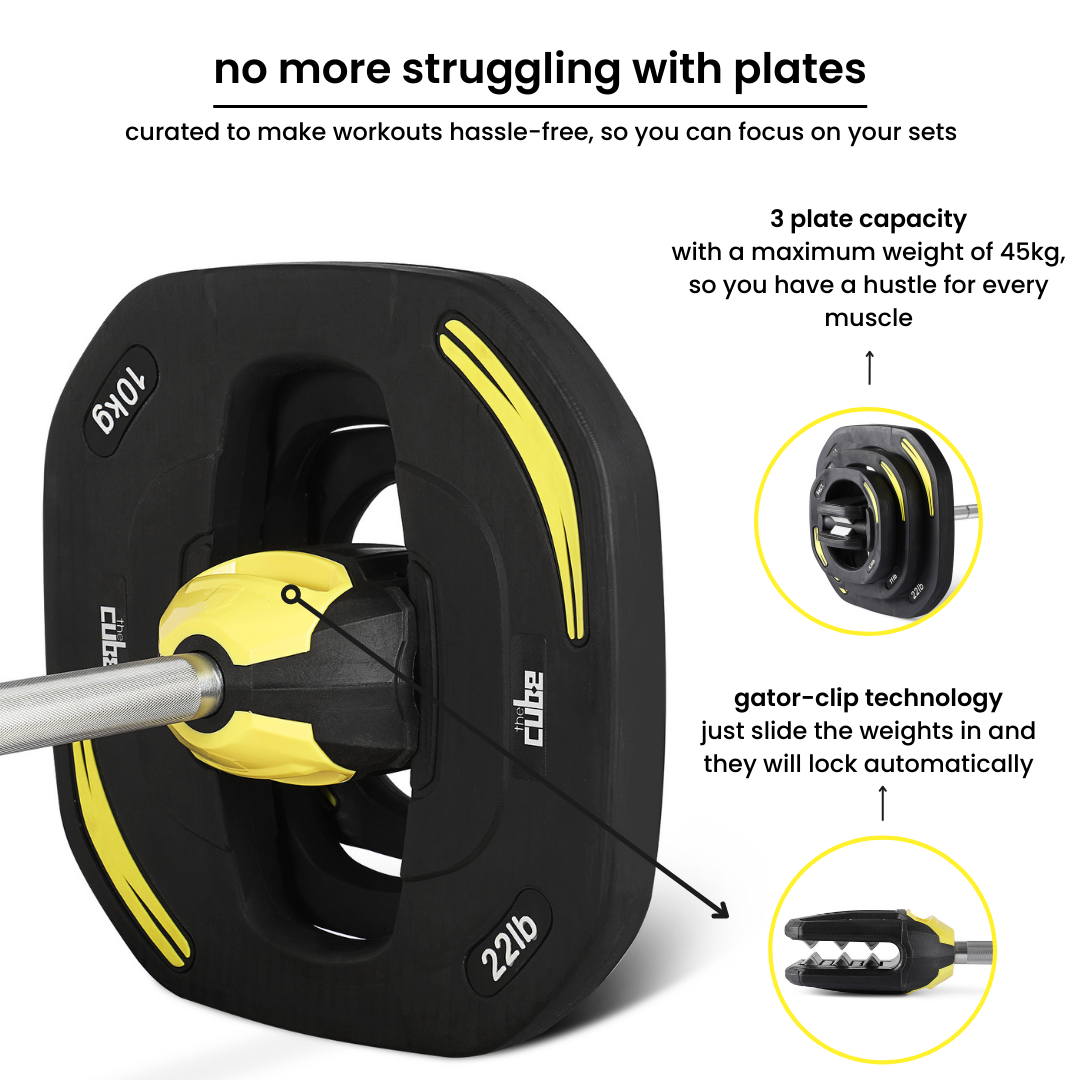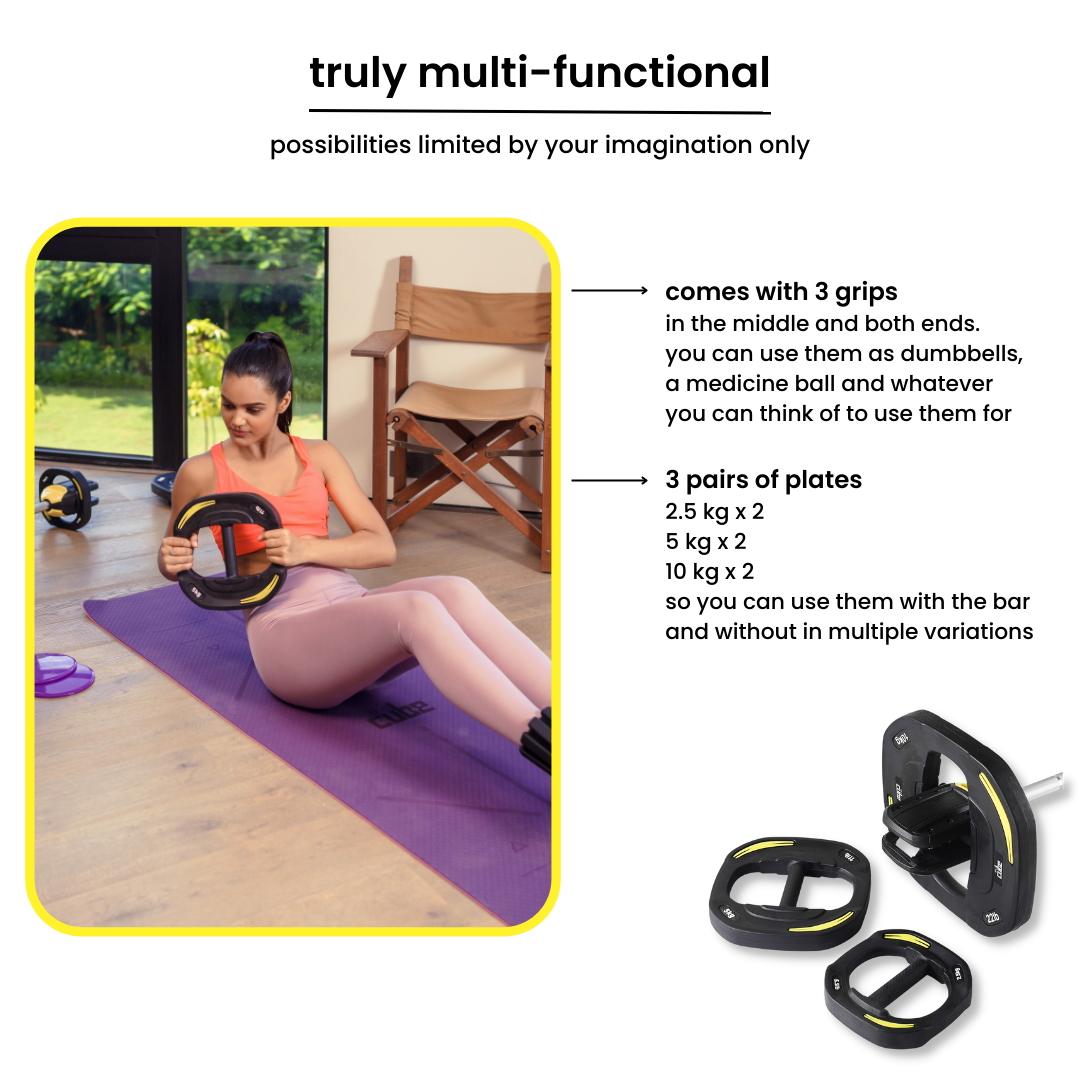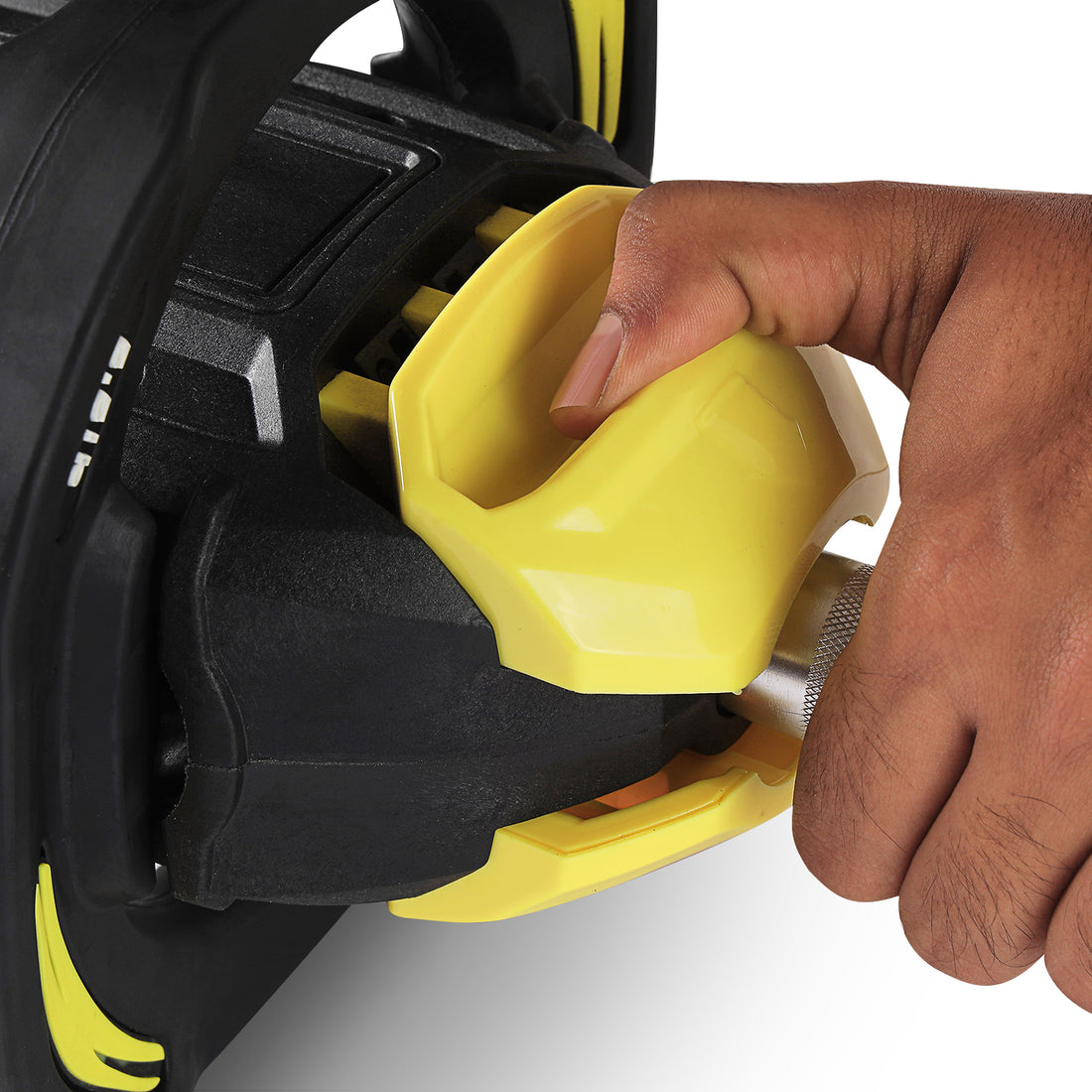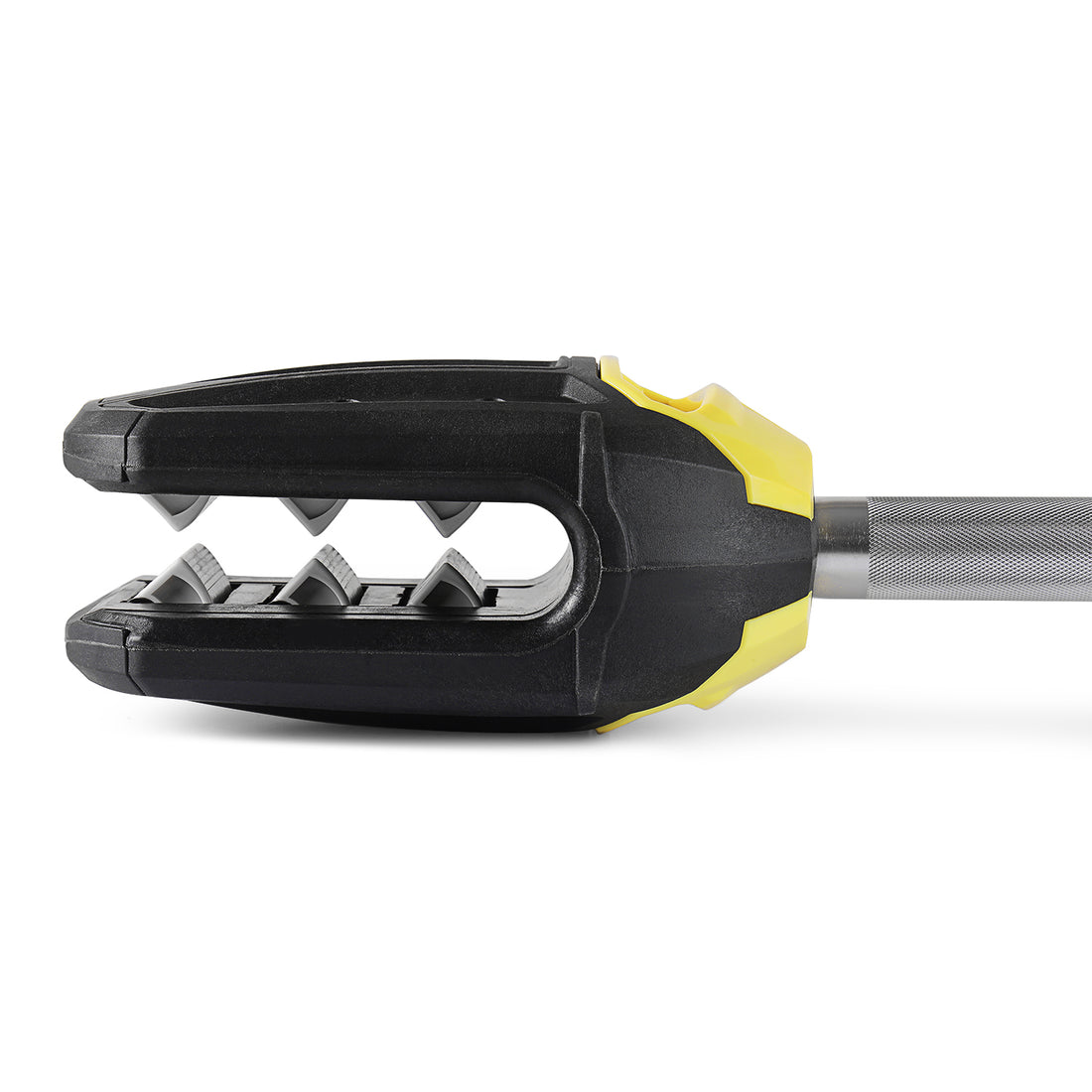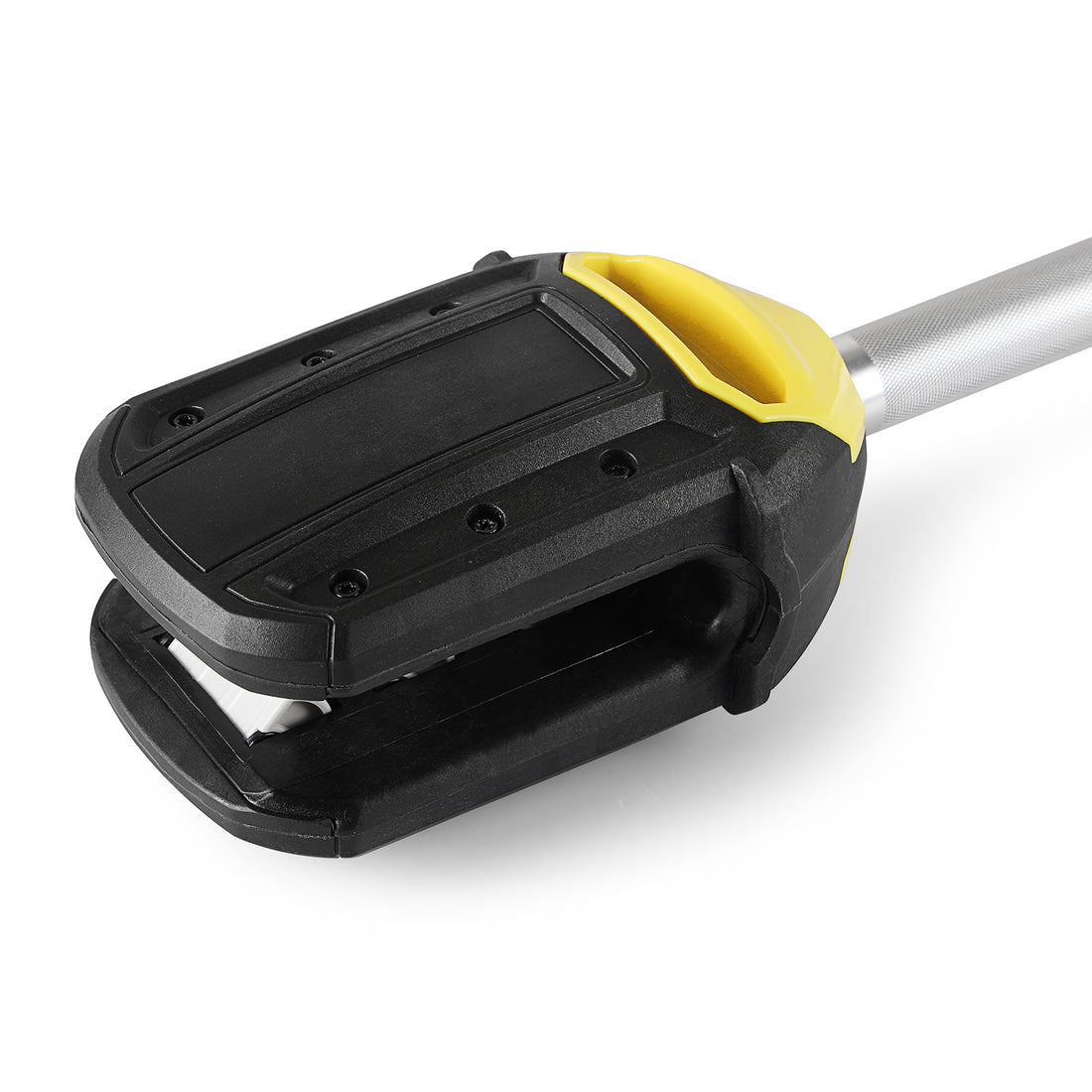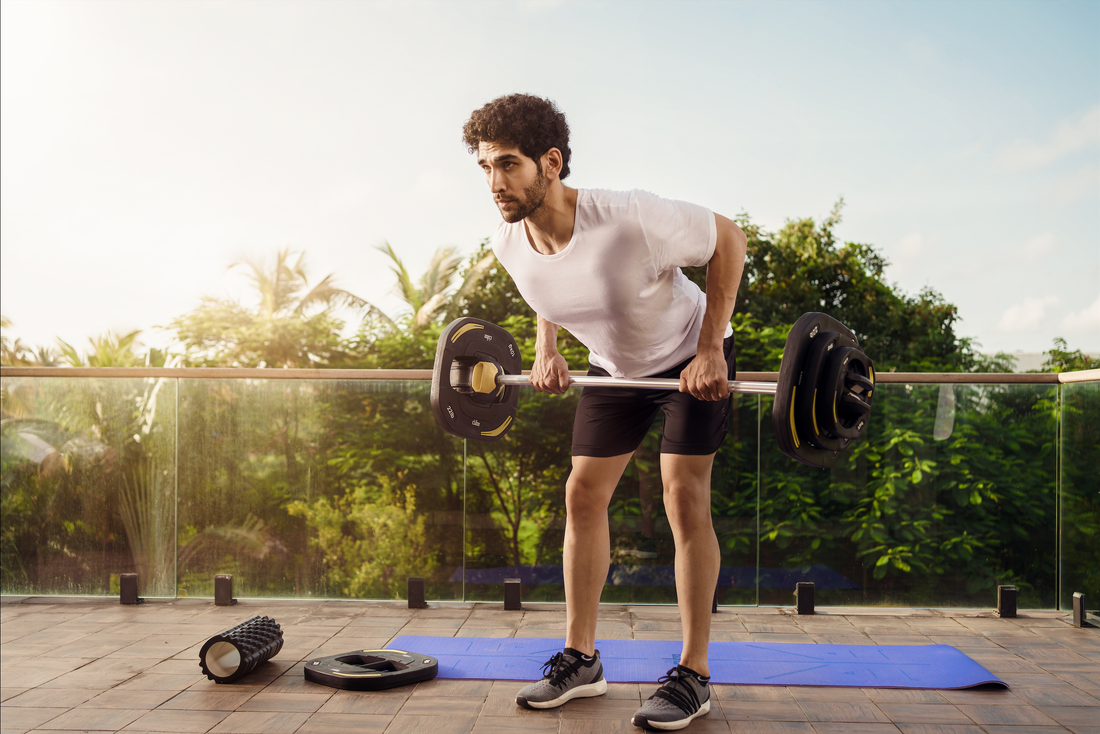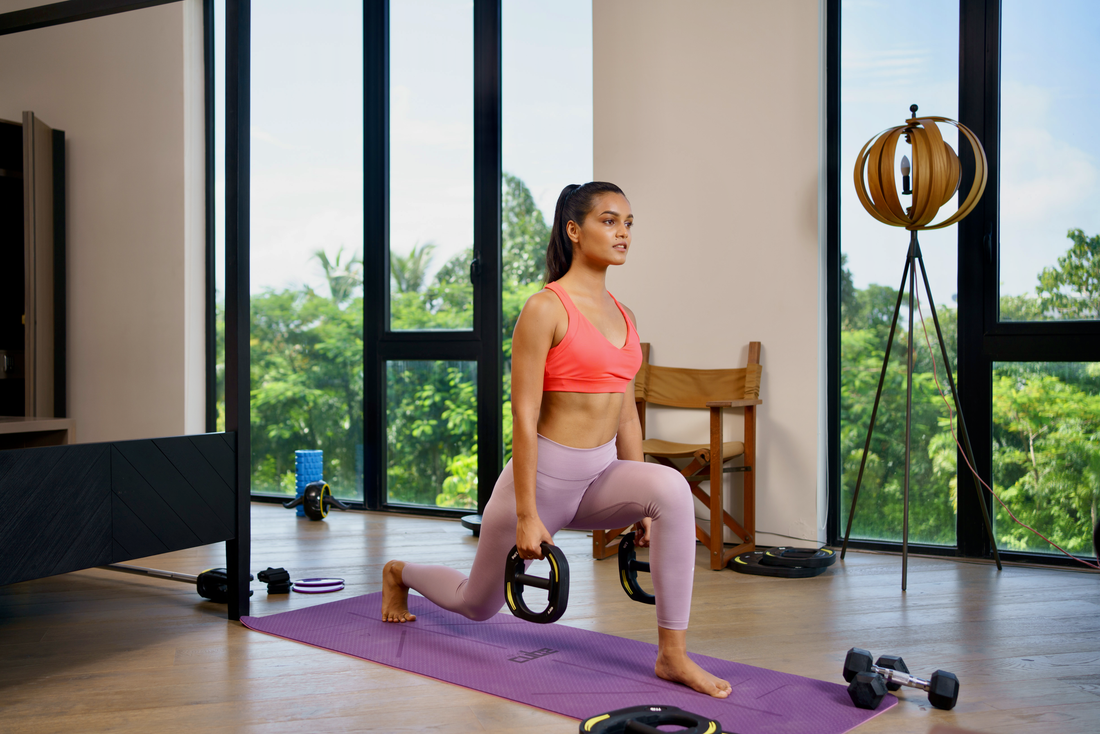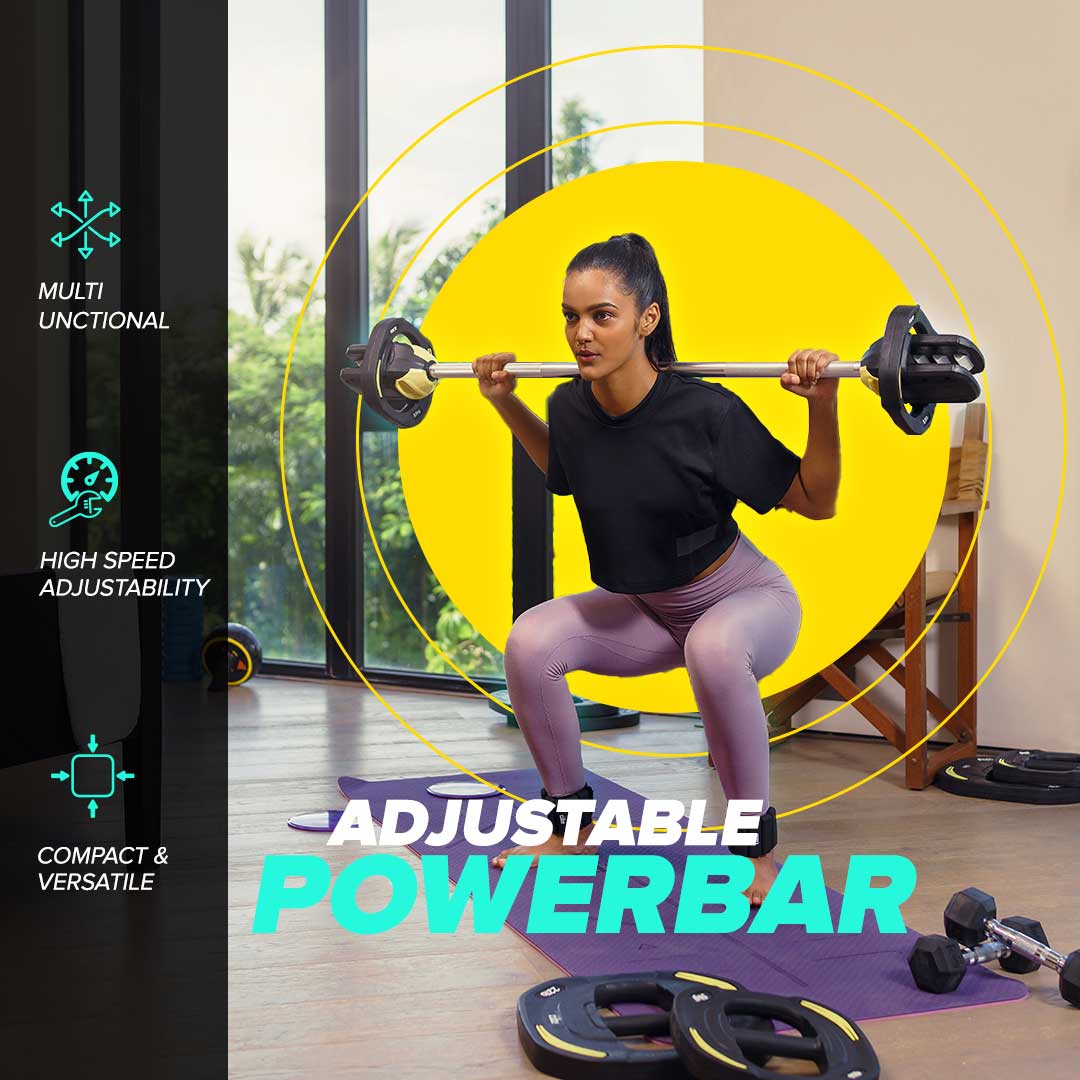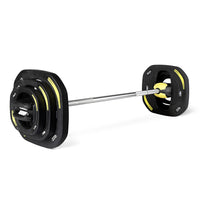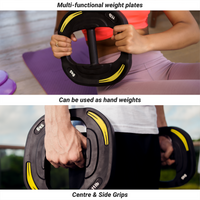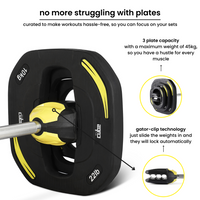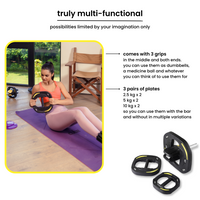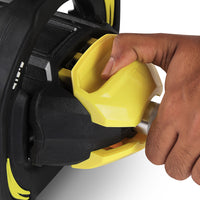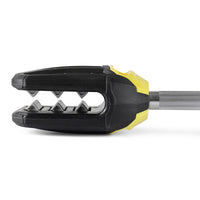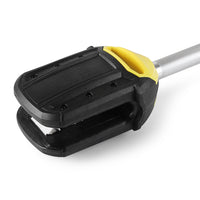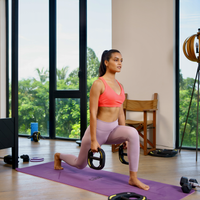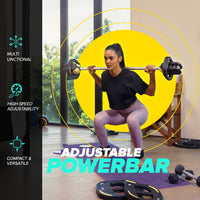 adjustable powerbar | strength training bars
COD POLICY
From deadlifts and squats to bent-over rows, it's all possible and it shows. This fully adjustable barbell is diligently designed for quick weight changes and opens up a world of possibilities from the bar to the individual plates which double up as hand weights.
Variants:
18 kg:
2.5 kg plate x 2
5 kg plate x 2
3 kg bar
38 kg:
2.5 kg plate x 2
5 kg plate x 2
10 kg plate x 2
3 kg bar

Add additional PowerPlates to your collection, if needed.
- Barbell
- Length - 130cm
- Weight - 3kg

- PowerPlates (for 18kg variant)
- 2.5kg x 2
- 5kg x 2

- PowerPlates (for 38kg variant)
- 2.5kg x 2
- 5kg x 2
- 10kg x 2

- Brand Flyer
truly multi-functional
Use it as a barbell, dumbbell, kettlebell or double grip med ball. The 2.5, 5 and 10 kg plates act as hand weights with 3 comfortable grip options - the ends, middle and both hands. Your home gym is now complete.
adjustable gator clips
No more fumbling with clamps, these crafty gator clips put you in control. Snap the plates in place or slide 'em off quickly and safely as you maintain your workout momentum.
smart engineering
Thoughtfully designed with rotating gator ends that help keep your arms in alignment and make lifting weights feel smoother. This instantly improves your form, reduces the risk of injury and your joints will thank you for it.
Frequently Asked Questions
The Adjustable Powerbar / Weight Lifting Rod comes with 2 variations.
1. 18 Kg Variant - This will have 2 Plates each of 2.5kg and 5kg
2. 38 Kg Variant - This will have 2 Plates each of 2.5kg, 5kg and 10kg
You have the option to purchase extra powerplates separately and have a maximum combination of 48kg on the powerbar.
The Powerbar is designed to help you with workouts like Bicep Curls, Shoulder Press, Bench Press, Skull Crushers for triceps and more of the lighter category workouts. You can use the gym barbell rod for anything from a deadlift, standing row or squats, one tool for all. We have designed the weights to be multi purpose. You can use the weights as adjustable dumbbells, swinging kettlebells or even a medicine ball for all your other exercises.
This investment is towards excellent quality equipment for your fitness goals. The Adjustable Powerbar is designed for the future :
- Easily slide in the weights
- Rotating clasps to move with you to support your muscles
- Use weights separately as dumbbells, kettlebells or medicine balls
- One equipment for your full body workout.
You know how your room door closes automatically when you push it in the doorframe and opens only when you pull down/rotate the handle? That's exactly how gator-clip technology works.
When you slide in the weights, they automatically lock in and when you want to get them out, you can use the pull unlock mechanism and take them out.